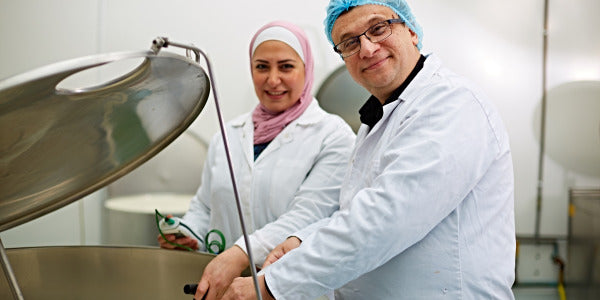 Here at Yorkshire Dama we have been very busy lately, from appearing on TV to taking part in Christmas fairs, today we want to give you the full run down on our latest events and upcoming ones you don't want to miss!
As you may have seen a few months ago we had the pleasure of featuring on Steph's Packed lunch on Channel 4, we had the opportunity to talk about our Syrian background as well as our products.
John Whaite, former Great British Bake Off winner, used our Yorkshire Dama ricotta cheese to create his delicious ricotta and spinach giant Yorkshire pudding. You can find the full recipe on our previous blog of this delicious dish. 
Later on in the year, ITV covered our back story and the passion we have towards our cheese production, when we were lucky enough to feature on the TV show 'All Around Britain'. Speaking of our humble beginnings and the journey we made to get to where we are today, how we began experimenting in our kitchen and made our way to becoming acclaimed cheese makers, were some topics of conversation on this exciting show!
It was an honour to speak about our journey to award winning cheese production and we are so thankful for the opportunity, you can find the full clip of us on Channel 4, or on our Instagram and Facebook.
This year's Christmas markets are very different from last year's, although we may miss out on the chance to speak to our customer's face to face at a festive market stall this December, you do have the chance to buy our produce on online festive markets.
We recently joined the Handmade Hayfield Online festive market and the Hepworth Wakefield Online Christmas Fair, allowing us to share the story of Yorkshire Dama Cheese with other small business supporters. These online markets are an amazing way to find the perfect Christmas treat without stepping out in these troubling times, they are always a great way to uplift your Christmas spirit. 
It is more important than ever this year to support your small local businesses, you can do your part by buying handmade gifts instead of gifts from chain supermarkets!
A few months ago we had the pleasure of having a feature in Reader's Digest. Celebrating Syrian cuisine and how our cheese has influenced British food within recent years! 
It is truly amazing to be able to talk about our business and our history to big companies such as the Channel 4 team, ITV and Readers Digest, this way our story reaches so many listeners and readers, making it a very special opportunity for us.