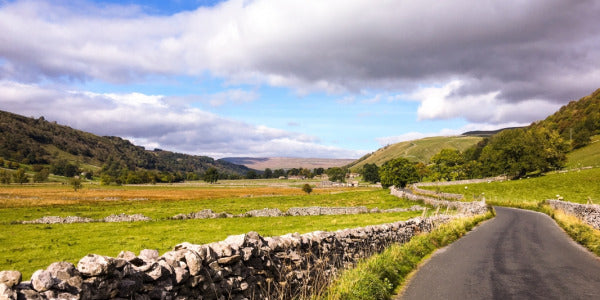 What to discover in Yorkshire
Let's start with the cows.
After all, it is thanks to these four-legged farm must-haves that Yorkshire Dama Cheese once discovered the great quality of Yorkshire milk and turned it into delectable dairy delicacies!
Now a multi-award-winning cheese factory, Yorkshire Dama Cheese is based in Sowerby Bridge. Before you type into Google 'Where is Sowerby Bridge', it is a market town in Calderdale in West Yorkshire. Along with the tasty milk, we love the boundless beauty and rich history of our home county – Yorkshire.
On top of delicious Yorkshire Squeaky Cheeses (if we can say so ourselves), Yorkshire has a lot to offer. Impressive coastline, open moors, countryside with rolling hillsides, historic cities and towns, picturesque villages and friendly people being just the tip of the iceberg.
Be it historic architecture or stunning nature, you won't run out of things to explore in Yorkshire! And just how big is Yorkshire? North Yorkshire alone is the largest county in England with more people living in Yorkshire than in the whole of Scotland!
Explore Some of the Best Walks in Yorkshire
Have you been on a walk yet today?
With lockdowns pushing the nation back to nature, we've all been (re)discovering beautiful walks in our local areas. Here are a few worth treading on in West Yorkshire:
The Bronte Walk
The moors, a waterfall, and wuthering heights didn't just inspire the Bronte sisters, but continue to draw walkers seeking inspirational landscape and open skies.
The Ilkley Super Circuit
This popular walk will spoil you with its picturesque scenery as it takes you along Ilkley and Burley Moors, the Cow and Calf rock formation and the Twelve Apostles Standing Stone Circle. Few can resist the charm of the windswept moors and prehistoric rock carvings!
Holmbridge and Holme Walk
This excellent, 5.25 mile-walk boasts traditional Yorkshire villages, reservoirs, Pennine Moors and Peak District hills. Plenty of picnic spots along this trail so make sure you pack a Yorkshire Squeaky Cheese picnic!
Places to Visit in Yorkshire
Although Yorkshire has been dubbed as 'God's Own Country' due to its landscape and unspoiled countryside, there are other places than the moors and reservoirs to visit.
Once released from lockdown, here are a few options for a much-needed road trip.
Family Day Out Like No Other
For a day out with a difference suitable for the whole family, The Forbidden Corner in North Yorkshire is a tourist attraction with a labyrinth of tunnels and chambers with tricks along the way. Perfect for those who like a bit of an adventure!
Art in the Park
Does 500 acres of landscape with contemporary art sculptures whet your artist's appetite? Then head over to Yorkshire Sculpture Park - an open-air gallery in West Yorkshire.
Check the weather forecast for this one and enjoy the beautiful scenery dotted with stunning sculptures by British and international artists, including works by Henry Moore and Barbara Hepworth.
A City Break to Remember
For a city break with a bit of everything, head over to York - Roman and Viking history mixed with contemporary shopping at its best. Stroll along the ancient York City Walls, be mesmerised by the York Minster and take a trip along Europe's most popular street, the Shambles. There is a lot to fall in love with in York!
Catch the Heartbeat of Yorkshire
To see the very heart of Yorkshire, plan a visit to one of its quaint villages. Spend a day breathing in the fresh country air while exploring boutique shops and stocking up on local produce from farm shops. Make sure to visit a Yorkshire pub for a hearty Yorkshire meal while you enjoy the friendly hospitality (and the distinct Yorkshire accent) of the people whose heart beats a special tune for Yorkshire!
Great Yorkshire Show and The Yorkshire Dales Food and Drink Festival
To experience the real taste of Yorkshire, come join us as we celebrate our locally produced products at these fantastic shows! Expect nothing less than live celebrity demos from the likes of James Martin and the Hairy Bikers, animal show-grounds and food tasting sessions. 
The Great Yorkshire Show will be held between the 13th and 16th July and the Yorkshire Food Festival will be held on the 24th - 25th July. 
Now that you've seen the best of Yorkshire, it's time to fill up your fridge with Yorkshire Dama Cheese products so you can taste the best of Yorkshire!