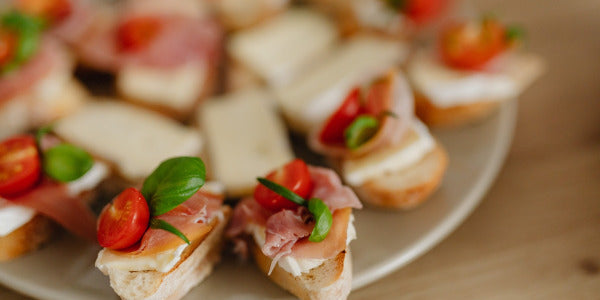 Enjoy exquisite cheesy canapé recipes this party season
Impress your party guests this Christmas season with moreish, cheesy canapes. They don't even need to know just how easy these canapes are to make…!  
Try Yorkshire Dama Cheese's quick-to-make party food ideas from vegetarian recipes to a twist on pigs in blankets!
Simple yet delicious party food ideas using Yorkshire Dama products
Dive into the party season with these easy yet full of flavour canapes.
Tomato and Squeaky Cheese Puffs
Ingredients:
500g puff pastry
150g plum tomatoes
1 tbsp olive oil
2 sprigs of fresh thyme
2 fresh sage leaves
Method:
1.    Preheat the oven to 200C/180C fan. Roll out the pastry and cut it into 6cm squares. Place the squares on baking sheets. Using a knife, lightly score a border around each square (roughly 1cm from the edge).
2.    Cut the squeaky cheese in half and then slice it. Half the tomatoes. Roughly chop the sage and pick the leaves from the thyme.
3.    In a bowl, toss together the tomatoes, cheese, oil, seasoning and herbs. Place a slice of squeaky cheese and half a tomato in the centre of each square. Bake for 15-20 minutes until risen and golden brown. Best served warm!
Squeaky Cheese and Pineapple Canapes
Ingredients:
450g fresh pineapple pieces
25g toasted sesame seeds
1 bunch mint
Cocktail sticks
Method:
1.    Preheat the oven to 180C/160C fan. Chop the pineapple into chunks and place them in a roasting tin. Bake for 35-40 mins until golden. Remove from the oven, cover and set aside.
2.    Chop the mint leaves and mix with the sesame seeds in a dish. Set aside. Cut the squeaky cheese into cubes and char on all sides in a frying pan. Toss the pineapple in the sesame mixture, then thread onto cocktail sticks with a piece of squeaky cheese.
Ricotta and Mushroom Filo Crackers
Ingredients:
125g chestnut mushrooms (finely chopped)
3 sheets of filo pastry
1 shallot (finely chopped)
1 small garlic clove (finely chopped)
15g toasted pine nuts (chopped)
6 sprigs of fresh thyme (leaves only)
1 tbsp olive oil
40g melted butter (for brushing)
Chives (optional – to decorate)
Method:
1. Preheat the oven to 200C. Fry the shallot in the olive oil for 3-4 mins until soft. Add the garlic for the final minute.
2. Increase the heat to high and add the mushrooms and thyme. Cook for 6 mins, stirring frequently until the liquid has evaporated, and the mushrooms have browned.  Tip into a medium bowl and leave to cool. Add the ricotta and pine nuts and mix. Season lightly.
3. Roll out a sheet of filo pastry. Brush with butter. Divide it into three (lengthways), then cut it in half widthways. You should have 6 rectangles. Place a spoonful of the filling at one short end of the rectangle. Roll up the pastry. Pinch the ends to form a cracker shape. Repeat the process with the rest of the filling and pastry.
4. Place the crackers on a baking sheet, brush with butter, and bake for 15 mins (until golden). Tie chives around the ends as ribbons to decorate (optional).
Stuffed Date Parcels with Labneh
Ingredients:
16 fresh dates
Pepper (for seasoning)
Method:
1.    Split the dates without cutting all the way through. Discard stones.
2.    Season the Labneh with pepper.
3.   Open the dates and fill them with Labneh. Serve!
Easy Canapes with your choice of topping
Whether you need vegetarian recipes or want to spoil a crowd with choice, these canapes are a party food must-have!
Ingredients:
1 baguette
400g Yorkshire Dama Ricotta or Labneh
Some topping options:
Egg slices with chives
Cucumbers with mint
Blueberries and halved strawberries drizzled with a little honey
Salmon or radishes with dill
Cranberries, olives and almonds
Method:
1.    Cut the bread into half-inch slices.
2.    Spread the ricotta/Labneh on each piece of bread.
3.    Add your toppings of choice and serve. It's that simple!
Feeding a hungry crowd or hosting surprise visitors? Have our Yorkshire Squeaky Cheese Halloumi Rolls  and Hello-Mi Fries  at hand for ready-made party food! Head this way to shop for all our Yorkshire Dama dairy products!