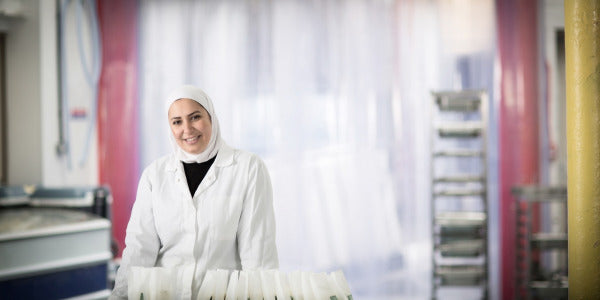 Shop small and reap the benefits with our Yorkshire Cheese
Did you know that with every purchase of our delicious Yorkshire cheese, there is an abundance of environmental and economic benefits that come along with it?
After experiencing life as a refugee and an incredibly brave journey to find a new home, our founder Razan, came to appreciate the beautiful resources that Yorkshire has to offer. From this, Yorkshire Dama Cheese was built on the main goal of utilising natural resources that are special to Yorkshire, whilst providing opportunities for Razan and her family, as well as the local suppliers and providing delicious cheese to all!
Environmental benefits of shopping local
One of the main factors that reduces environmental damage, when it comes to agriculture and food production, is distance. In order to provide consumers with a wide variety of ingredients, supermarket giants must out-source items to ensure all-year-round availability, despite seasonality differences across the globe. To do so, a vast amount of energy and water is required to encourage out of season produce to grow.
When food is produced and supplied locally, you are drastically cutting down on the transportation of shipping goods from far distanced farmers to international consumers. This means that lower levels of emissions are transmitted into the Earth's atmosphere.
Local economy benefits
Farming families and local workers work incredibly hard to adapt to changes in the weather, the economy, as well as working against large corporate competitors. By supporting small businesses and local food producers you are able to guarantee money is invested back into your community and to ensure that work is continuously available for each stakeholder involved within sustainable food supply chains.
During the pandemic, Yorkshire Dama Cheese partnered with Yellison Farm and Laund Farm who were facing a decline in sales during Covid 19, with the fear of not being able to financially support their businesses and the possible threat of having to euthanise their herds of sheep to control the overproduction of milk, it was important to find a solution. We decided to launch our delicious range of sheep's milk and goat's milk style of halloumi cheese and yoghurt!
Choices like these can make a big difference in any community.
How you can make small changes to your shopping habits
As shoppers, we have the ability to make important and educated choices on where we buy our food!
It is important to not only remember the amazing environmental and economic benefits of shopping local, but also the great nutritional value that comes with supporting locally grown goods. When you purchase your food from independent supermarkets, local farm shops or markets, you are also putting fresher and more nutritional ingredients into your body.
So, with all of these great points in mind… let's discuss some quick and easy ways to change up your usual shopping habits in order to give back to your community.
Shop locally - get involved with your local community and discover market events and small shops where you can source the freshest, UK-grown foods

Avoid food waste - try sticking to a meal plan to help you organise fresh goods and use-by dates

Think about seasonality - when creating your meal plan, consider which fruits and vegetables are in season so that you can ensure they are grown in your local area!
Where to find us
To shop our yummy Yorkshire cheese, you can visit our factory for collection:
Unit 12, Sowerby Bridge Industrial Estate, Victoria Road, West Yorkshire, HX6 3AE
Or order online to receive your order within 5 working days. 
We also stock our delicious products in multiple Yorkshire based farm shops.
If you are looking for a last-minute cheese fix - stay updated on the Too Good To Go app to enjoy our unsold products of the day and help us fight food waste!