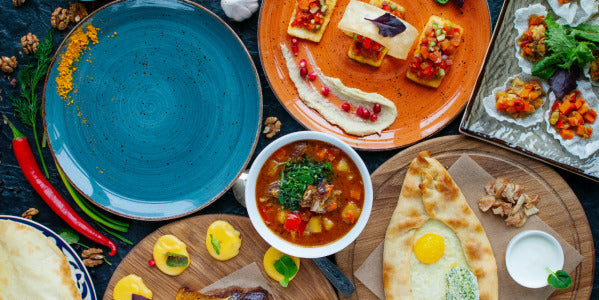 Yorkshire Dama's ultimate summer recipes
Summer has finally graced us with its presence, and we are ready to bake in the sunshine! Speaking of baked goods, have you dusted off your favourite summer recipes ready for barbecues and garden parties?
To bring some squeaky inspiration to your summer recipe book, Yorkshire Dama Cheese is here to give you some of our favourite summer recipes – naturally jam-packed with our marvellous squeaky cheese flavour!
(serves 4)
These quick-to-make, BBQ favourites can be made with any of our Yorkshire Squeaky Cheeses for a different flavour every time, and you can even swap the veggies to suit your preference. A delicious summer recipe you'll want to make all year round!
Ingredients:
1 ½ packs Yorkshire Squeaky Cheese
2 courgettes
16 cherry tomatoes
1 red pepper
1 yellow pepper
For the dressing:
2 small bunches basil
1 large bunch flat-leaf parsley
2 garlic cloves
1 lemon
6 tbsp olive oil
Instructions: 
1. Slice the peppers and Yorkshire Squeaky Cheese into chunks (roughly 16 each). Cut the courgettes into 16 slices about 1 cm thick each.
2. Whizz together the basil, parsley, garlic, the juice of one lemon and olive oil in a food processor. Place the mixture in a large bowl, then add the squeaky cheese and vegetables. Toss everything together to coat.
3. Alternate in threading peppers, squeaky cheese, and courgettes onto wooden skewers (makes about 8). Aim to have two pieces of squeaky cheese on each skewer.
4. Place the skewers on a hot barbeque and cook for roughly 15-20mins, turning periodically.
5. Serve with lemon wedges and any leftover dressing.
Hint: To stop the wooden skewers from burning, soak them in water beforehand.
Squeaky Cheese Crouton Salad with Ricotta Pesto
(serves 4)
There are plenty of salad ideas out there for using squeaky cheese, but this squeaky cheese crouton salad with mouth-watering ricotta pesto is truly scrumptious!
Ingredients:
1 red pepper
1 yellow pepper
250g plum tomatoes
3 courgettes
220g Original Yorkshire Squeaky Cheese
2 eggs
50g breadcrumbs
50g flour
60g rocket
Salt & pepper (to season)
For the ricotta pesto dressing:
2 cloves garlic
2 cups packed fresh basil
½ cup pine nuts
½ cup parmesan
1/3 cup Yorkshire Dama Ricotta
1/3 cup olive oil
Instructions:
1. Preheat the oven to 180C.
2. Cut the peppers into chunks and add to a roasting dish with a little salt, pepper and a drizzle of oil. Roast until soft and slightly charred (about 40 mins).
3. Slice the courgettes into thin strips and drizzle with olive oil and season with salt and pepper. Add to a hot frying pan and cook for 6 mins on each side.
4. Prepare the ricotta pesto dressing. Place the garlic, basil, pine nuts and cheeses in a food processor and blend. Pour the olive oil in slowly until it forms a thick sauce. If you want a runnier consistency, add more olive oil. Set aside.
5. Cut the squeaky cheese into small cubes.
6. Get three bowls and place flour in one, whisked eggs to another and breadcrumbs to the third one. Dip the squeaky cheese cubes in the flour, then the eggs, and lastly the breadcrumbs.
7. Fill a pan with 2 cm of oil and heat the oil. Add the squeaky cheese croutons to the pan. Cook for 4 minutes until nicely golden brown. Remove from heat and place them on some kitchen roll.
8. Halve the plum tomatoes. Put all the ingredients into a large salad bowl with the rocket and if there are any leftover pine nuts, sprinkle them on top. Pour the ricotta pesto dressing on top. Toss it all together and serve. Enjoy the deliciousness!
Yorkshire Squeaky Cheese Burgers in Mini Pitta Pockets
A lighter take on the original halloumi burger, these squeaky burgers in pittas are full of healthy vegetables and big on yummy flavour! To add a kick to your halloumi burgers, use our Yorkshire Squeaky Cheese with Chilli instead of our original squeaky cheese.
(serves 4)
Ingredients:
2 packs Original Yorkshire Squeaky Cheese
1 courgette
300g grated carrot
1 small red onion
50g sweetcorn
1 egg
75g breadcrumbs
1 tbsp dried coriander
1 tbsp fresh coriander
Lettuce leaves
2 large tomatoes (sliced)
8 mini pita pockets
Instructions:
1. Preheat the oven to 200C (180C fan oven).
2. Prepare the vegetables. Grate the carrots and courgette, chop the onion, and boil the sweetcorn. Finely chop the squeaky cheese and fresh coriander.
3. Place the vegetables, breadcrumbs, squeaky cheese, beaten egg, and coriander into a mixing bowl. Mix together.
4. Form the mixture into eight burgers and set them on a baking tray lined with non-stick baking paper. Bake for about 20-25mins until golden brown.
5. Warm the pittas and split them open. Fill each pitta with a burger, add a slice of tomato and some lettuce, and serve!
Do you have a favourite Yorkshire Squeaky Cheese summer recipe? Share it with us by tagging @yorkshiredamacheese on Instagram or Facebook!