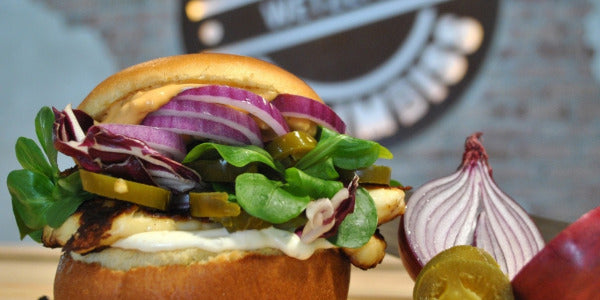 Homemade Halloumi Fries Have Never Been Better!
The 16th of November is National Fast food day in the UK and our beloved Halloumi has become very popular within the fast food industry. Companies as big as Burger King are now offering a Halloumi burger for vegetarians or cheese lovers in general!
The history behind fast food
The first fast food restaurants are known to have opened as early as 1921 in the USA, with a speedy service as their main business goal to accommodate speedy eaters who may be in a rush on their commute to work, high school, college - as well as people who simply do not have the time in their day to prepare a home cooked meal.
Fast food meant customers were not compromising on food quality and did not have to wait long for their food to be served.
One of the most famous fast food restaurants in the world is McDonalds. The chain started in 1948 by 2 brothers in San Bernardino, California, over the years the restaurant grew over America and made its way to Canada. The classic favourite we all know of - the Big Mac, became a famous name in the USA. Today McDonalds has restaurants in over 100 countries worldwide with 38,000 restaurants which serve 69, 000, 000 people a day, which is truly impressive! 
We understand that eating out isn't so easy during times of Lockdown, so why not bring a touch of American dining into your home?
For national fast food day 2020 we are bringing a tasty fast food inspired meal, using our fresh and flavoursome squeaky cheese as the main ingredient for this burger and fries recipe.
Ingredients:

2 packs of Yorkshire Dama Squeaky Cheese
- we recommend our za'atar flavoured squeaky cheese to add a little extra seasoning to the fries.
75g plain flour

2 tsp smoked paprika

Sunflower oil 


Method:
1. Begin by cutting the squeaky cheese into fry like strips
2. Mix the flour and the paprika together and gently coat the squeaky cheese strips.
3. Add the oil to a wide based pan so it fills to about 2cm, then add the squeaky cheese strips, turn with tongs until crispy and golden brown on each side. Transfer to a piece of kitchen paper to remove excess oil.
4. Sprinkle fries with salt and any other seasoning of your choice, serve with your favourite dips.
Yorkshire Dama's Scrumptious Squeaky Cheese Burger
Ingredients:
250g Yorkshire Dama Squeaky Cheese

4 brioche buns

1 tbsp olive oil

4 tbsp hummus

1 large tomato, thinly sliced

Lettuce Leaves

4 tbsp  tomato salsa
1 red onion
Method:

1. Start by slicing the squeaky cheese into rather thick slices, (the thickness of a burger patty). Thinly slice the tomatoes and cut the red onion into rings.

2. Heat a griddle pan and add a dash of olive oil, once heated place the slices of squeaky cheese on to the griddle pan and cook evenly on both sides until golden brown.
3. Cut the brioche buns in half and place in the griddle pan until lightly charred on both sides. 
4. Once cooked spread your hummus of choice on to the brioche bun, add the lettuce leaves, tomato and onion to the bun and finish with the crispy squeaky cheese.

5. Serve hot and enjoy!