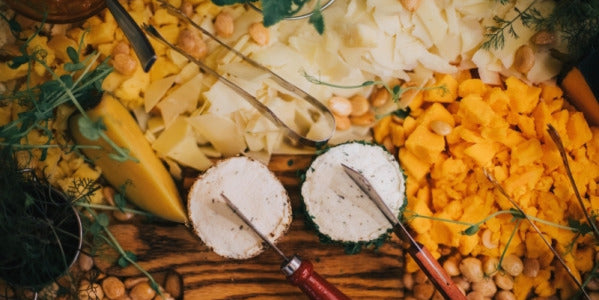 Get Festive with a Yorkshire Dama Cheese Board
Christmas time - a time when families all over the world come together to celebrate, enjoy good food and share gifts.
The usual Christmas dinner is turkey with all the trimmings, but a popular festive trend is a cheese board! It satisfies our desire to snack after Christmas dinner, (instead of indulging on chocolate and treats), settling down with the family with a cosy Christmas movie, playing board games whilst nibbling on a cheese board is the perfect end to a special day.
Decorative Cheese Board Ideas
There are many inventive ways to decorate a cheese board to make it festive and unique. Firstly, placement is key to achieving an appetising display. One of our favourite ideas is cutting your chosen cheese into cubes, this way you can arrange them into festive shapes like a Christmas tree, wreath, snowman, bauble, or even a gingerbread man. Fill the remainder of the board with herbs, crackers, vegetables, cooked meats....the possibilities are endless! 
An Italian cheese loaf is a tasty sharing snack, made from cream cheese and cheddar and a mixture of other ingredients, shaped into a loaf of bread and topped with a variety of options, such as nuts, herbs and spices, or even meats. This can be changed in shape such as Christmas trees, wreaths or even animals such as a hedgehog by using the nuts as spikes.
Another idea is cheese skewers laid into festive shapes, like a skewer wreath, with each skewer full with yummy flavoured cheese's, our flavoured squeaky cheese would be perfect for this to create an array of surprising flavours in each skewer.
Flavours are essential in perfecting your cheese selection. Our wide variety of squeaky cheese offers amazing flavours to surprise your guest's taste buds, we also offer matured yoghurt balls, Labneh spreadable yoghurt and ricotta - these may be cheese's your guests have never tasted before. What's better than surprising them with something new whilst supporting a local business this Christmas?
Supermarkets this time of year usually have limited edition cheese's, so adding festive flavouring would really complete your Christmas experience. You could even go the extra mile this year and make your own cheese, there are plenty of kits that can be found online, and it would seriously impress your guests when they get a taste of your home made selection of cheese!
Festive Extra's to Complete your Cheese Board
The familiar phrase, 'chestnuts roasting on an open fire', can be used quite literally this year. Gather the family together in a cosy space, put on a tutorial on how to effectively roast chestnuts and enjoy this exquisite festive treat.
Nuts are ideal for decorative purposes, pecans and cashews have a mild, creamy flavour, they go amazingly well with the saltiness of cheese, they also offer crunch. Adding nuts to decorate your Italian cheese loaf would help to break up the softness of the cheese and create a crunchy texture.
Spanish meats and other cold meats, aka cheese board essentials, can be wrapped around blocks of cheese, added to skewers or used to add an extra something to your classic cheese and crackers.
Everyone loves crisps, that's a solid fact! It may be a simple yet obvious addition to your cheese platter, but there are plenty of small businesses that hand make their flavourful crisps, instead of going to buy tired out traditions, try something new and support a smaller crisp company. You could even make your own crisps by following recipe's online, and packing them full with your favourite flavours.
Chutney, it comes in all sorts of flavours and is amazing when generously spread on crackers with cheese. It is very easy to make yourself and has a long shelf life, just like fine wines... the longer it is sat on your cupboard shelf the better it tastes. Allowing you to impress your guests with more handmade goods, the flavour options are endless and it could also make for a great gift for fellow chutney lovers.
You can add virtually anything to your cheese board to make it a crowd pleaser, from meats, to even fruit, the possibilities really are endless. We hope our festive cheese board ideas make their way to some of your family Christmas table's this year, providing a wow moment for everyone!